From the moment I spied this on Pinterest, I whispered "You will be mine, oh yes, you will be mine." I love cowl necks, and I love flannel, but never the two shall meet? But they did!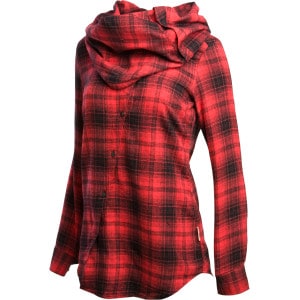 I rarely make clothing for myself anymore, as I find kids way more interesting. But since this can no longer be found, I knew it was up to me to make it happen.
Here it is, my knockoff of the Burton Womens Trailblaze Top!
Knockoff Copycat Burton Womens Trailblaze Top
My creative process involves thinking for a day, dreaming about it at night, then drawing it out, then thinking another day. Can't rush this stuff! Made a mock-up muslin, found it fit, then found some flannel I loved and started cutting. This top involves 2 yards of nice flannel, thread, 12 snaps, some interfacing, and a pattern.
Here's the deal

: I want to share the love, but don't know if there is any interest. If there is,

I'll make up a tutorial and a pattern

for this very comfy top. Just comment your interest or email me with what you would like to see happen. Otherwise, I'm just standing here by the beach in November, showing you something I made and love! Happy November everybody, and much love :)
cowl neck flannel (yes, it can be a hood!)
cowl neck flannel shirt like the Burton Trailblaze Top